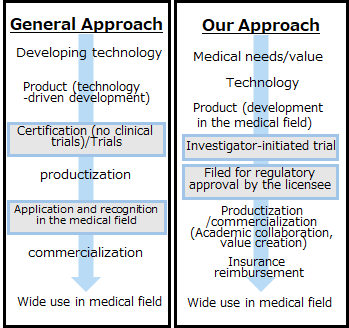 There are many cases in which excellent technologies are difficult to apply (put to practical use) in medicine because they do not meet the issues and needs of the medical field. Renascience has developed a disposable ultrafine endoscope using a method called "Bio design", which involves developing solutions to problems based on the needs of the medical field as a starting point, and optimizing development by imagining the final product in the medical field to achieve innovation.
Peritoneal dialysis is a treatment for end-stage renal failure that allows home dialysis and has advantages in terms of medical economy. However, it has to be discontinued after about five years because the peritoneum deteriorates over time and can cause serious complications. Currently, the only way to check the condition of the peritoneum is by laparotomy or laparoscopic observation. Peritoneal dialysis patients always have a tube inserted into the peritoneum to inject dialysis fluid. We have developed an ultra-fine endoscope (diameter about 1 mm)that can be inserted through this thin tube to observe the peritoneal cavity non-invasively in collaboration with Tohoku University, Juntendo University and The Jikei University School of Medicine. We listened to the opinions of many physicians and developed this disposable product with an outer diameter of approximately 1 mm, which is suitable for specifications in the medical field, by outsourcing to a company with fiberscope technology.
In August 2022, the fiberscope, the main frame of the endoscope, was submitted to the PMDA for approval, and in December of the same year, the Ministry of Health, Labour and Welfare (MHLW) granted regulatory approval. In May 2020, Renascience concluded a joint development and commercialization agreement (license agreement) with a leading company in the field of peritoneal dialysis and the company will commercialize the fiberscope. In September 2022, we entered into a collaboration agreement with HI-LEX Corporation and its subsidiary HI-LEX Medical, Inc. for the development of medical devices including the guide catheter. A regulatory filing for the guide catheter is expected by the end of FY 2023.