The treatment of novel coronavirus infections (COVID-19) is an urgent social issue. Although about 80% of infected patients have a mild disease, the disease can become severe, especially in the elderly and patients with underlying diseases, leading to severe pneumonia and acute respiratory distress syndrome (ARDS).
Although the number of patients has been decreasing due to the widespread use of vaccines, there are still issues such as viral mutations, and the patients who develop pneumonia do not disappear. Therefore, there is a need for therapeutics that can prevent the disease from worsening at home, prevent hospitalized patients from becoming seriously ill, and reduce the sequelae. We are developing an oral medicine that can solve these medical issues. We hope to contribute not only to prolonging the lives of patients, but also to reducing the burden on the medical field and effectively utilizing medical resources.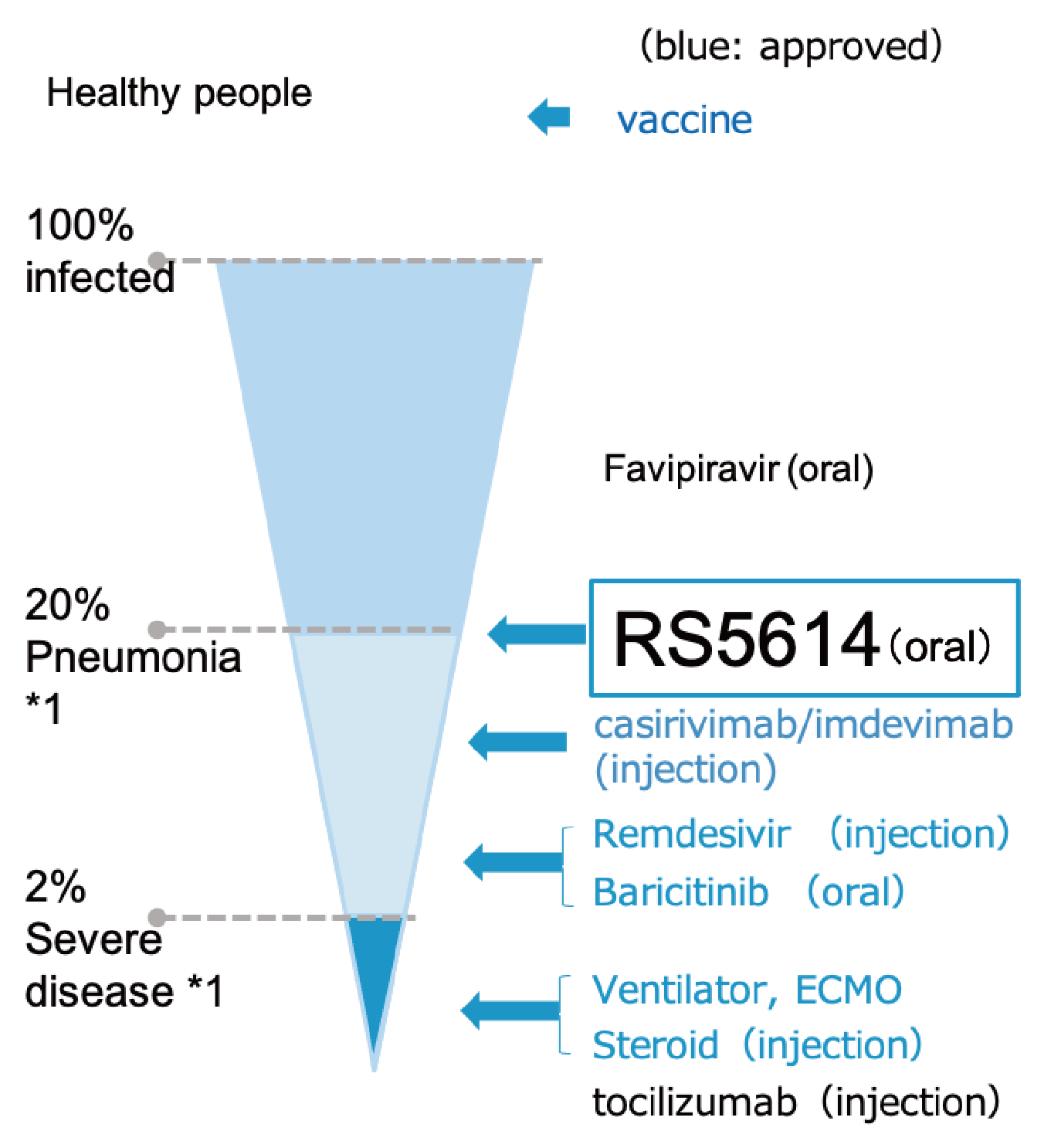 Phase IIa Study
Phase II investigator-initiated clinical trial was conducted at seven medical institutions in Japan to evaluate the efficacy and safety of PAI-1 inhibitor for COVID-19 pneumonia (funded by AMED's "Research Program for Emerging and Re-emerging Infectious Diseases (4th round)"). The trial was conducted quickly and efficiently, with the first subject enrolled in October 2020 and with the study completed in March 2021. It is difficult to verify the efficacy because it was an open-label study. However, there were no serious adverse events that could be causally related to the study drug, and the safety of RS5614 was confirmed in COVID-19 infected patients.
Phase IIb Study
In June 2021, we started a placebo-controlled blinded study in 100 patients with moderate pneumonia at 20 major medical institutions in Japan (funded by AMED's "Research Program for Emerging and Re-emerging Infectious Diseases (5th round)"). If patient enrollment proceeds smoothly, the study may be completed at the end of March 2022.However, since the number of subjects enrolled is currently decreasing due to the sharp decline in the number of people infected with the new coronavirus, we take measures such as reconsidering the planned number of patients to be enrolled at each medical institution involved in the clinical study.
In parallel with the clinical study in Japan, a Phase II investigator-initiated clinical study has been conducted in the U.S. with a similar protocol. In addition, in the Republic of Turkey, the early phase II investigator-initiated clinical study (open-label) to confirm the safety of the drug is completed, and a double-blind clinical study is now being prepared.